Personal Branding
Branding
2021
The way the English and Chinese typefaces are intertwined intrinsically ties to my identity as a second generation Taiwanese-American because these parts of my life are indistinguishable from each other.
The English script is of my initials and represents the fluidity of speaking English as compared to the blocky Chinese characters because Chinese does not come easy to me and, oftentimes, my Mardarian sounds choppy.
I took inspiration from Taiwan and California's scenic landscape. The dark purple is my favorite color and reminds me of a family trip to Napa, filled with fields of lavender. The mint green is reminiscent of my grandparent's farm in the mountains of Taiwan, covered in tropical plants.
The abstract shapes are a visual language, symbolizing each of the Chinese characters.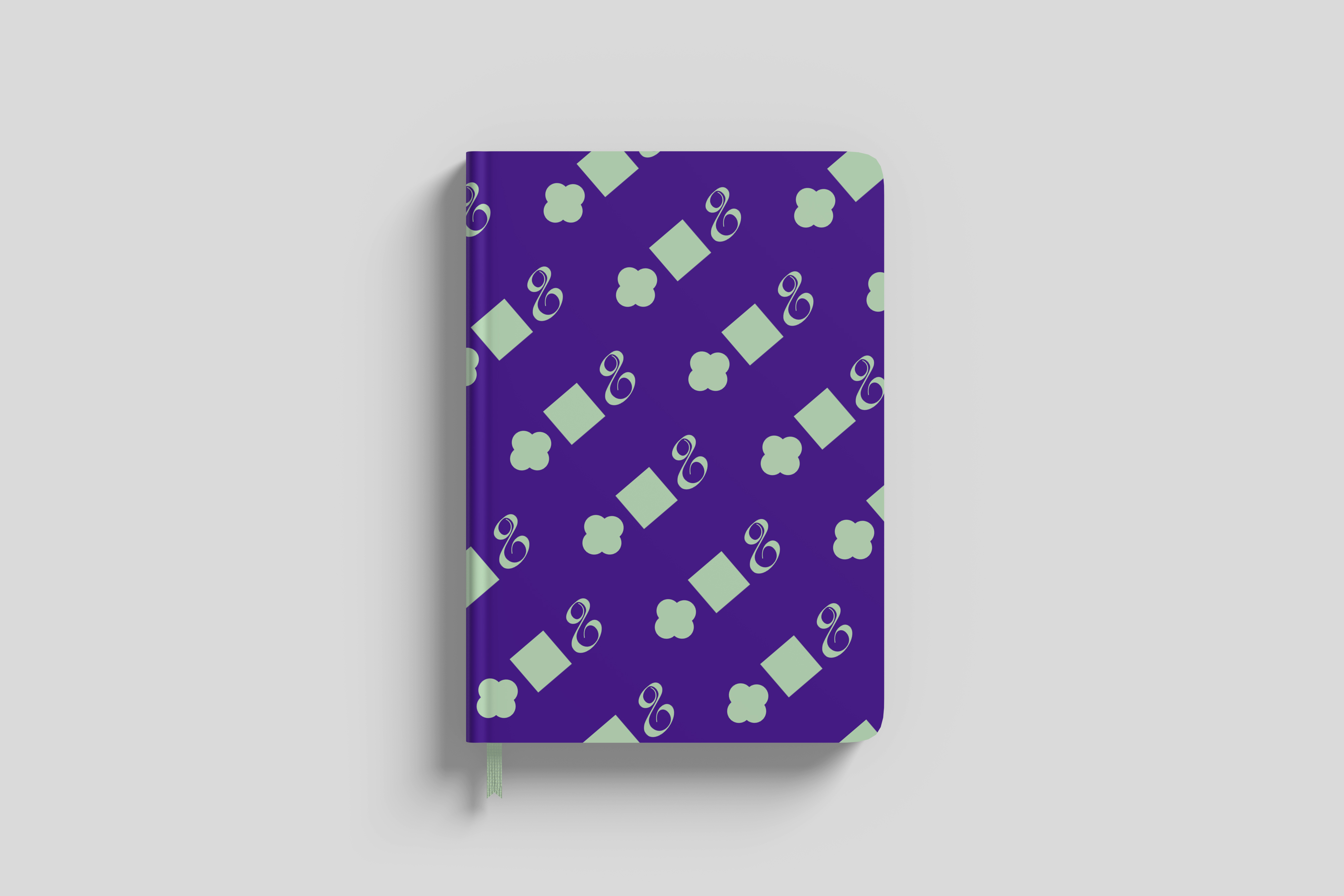 MillerKnoll
Branding
2022
The brand identity for the Knoll Workplace Research Library (KWRL) was largely based in reference to one of Knoll's core strategies– Remix Idea and Concept.
Our identity was inspired by the Regengeration chair specifically the mesh design. The KWRL identity is a new, fresh branding that is flexible and responsive to movement similary to the Rengeration chair.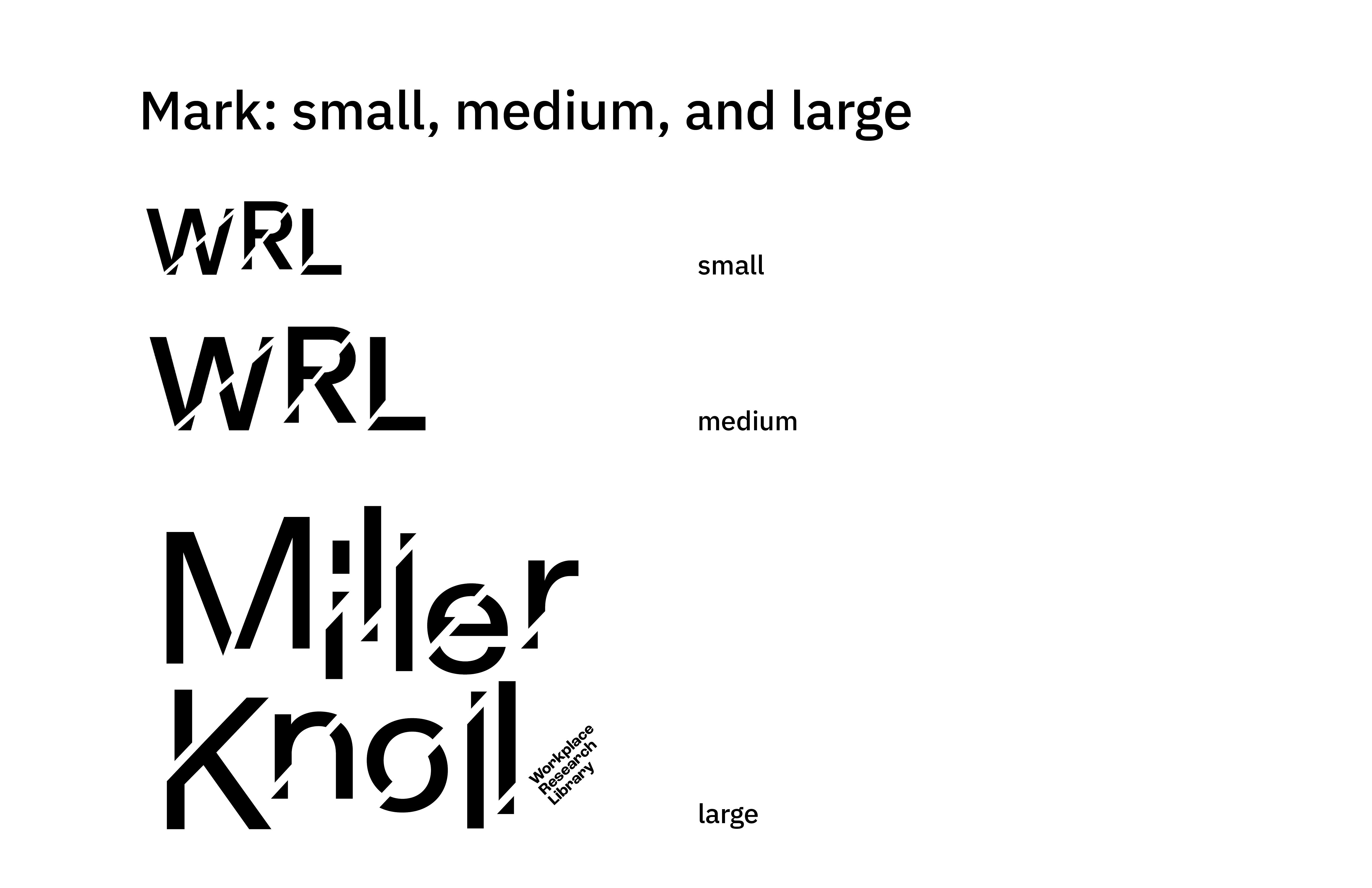 Fragments of a Freelancer
Editorial
2022
I had the pleasure of interviewing Marina Veziko, a Finnish designer who focuses on branding and art direction. I incorporated geometric shapes, since Marina uses them as a framing devices within her own work. Through this composition, also wanted to express her lifestyle as a freelancer, where she is able to dab in multiple areas of design.

The display type is set in Cosi Azure, a geometric typeface that echos the puzzle piece-like composition.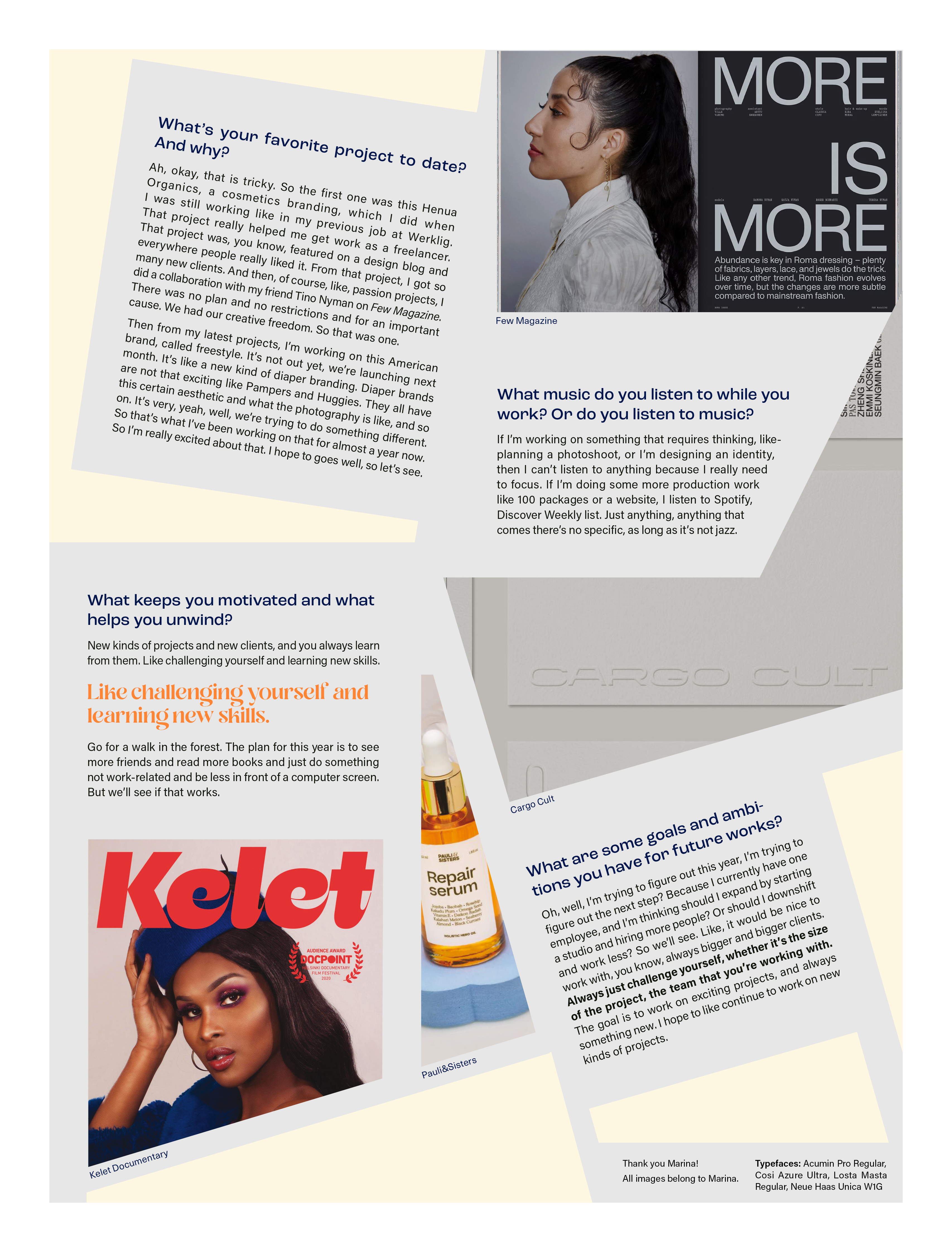 Personal Scarf
Digital Print on Silk
2021
A scarf composed of my initials: JL. My color palette was a lavender purple, which reminds me of lavender fields in Napa Valley, and royal blue, like the beaches in California.

I played around with different line weights to see how the lines interact with each other. In the end, I chose the design with a yellowish background, since it gave a calming effect. I wanted to create a scarf that gave a sense of peacefulness, similarly to the California tranquil scenery.



Sketches


Cinema 4D Render
Heritage Design: The Harley-Davidson Motor Company

Book
2021
A printed publication on Heritage Design: The Harley-Davidson Motor Company discusses the Americana history of Harley-Davidson. The structure and visuals are based on Harley-Davidson's branding and motorcycle aesthetics.